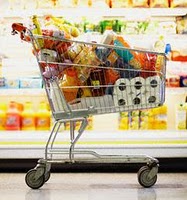 Changes occurring at Target and Walgreens directly effect consumer packaged good manufacturers.
Target Seeing Positive Sales Results from Addition of Fresh Foods
Target's 2nd quarter profits rose 3.7%. The company credits the increase to adding fresh food to its stores. Target said sales rose from more consumers consolidating shopping trips at its location.
In contrast Walmart has experienced a ninth straight quarter of negative same store sales. While Walmart has said it is seeing sequential monthly improvements, consumers are purchasing smaller pack sizes of products.
However, not all consumers are tightening their budgets. Target is seeing some of its consumers trading up to higher end brands like Smith & Hawken and Fieldcrest.
"Across all of retail, the 20% of households with the highest incomes are shopping more often and spending more, while the other 80% have been cutting trips and spending less," said Target's merchandising chief Kathy Tesija on a conference call. "Some of these trends are visible in our own results."
Target's core customer has a median household income of $55,000. Some analysts have said Walmart's core customer has a household income in the low $40,000s.
Walgreens to Create More Competition for CPG Companies
Walgreens has consolidated its store brands and introduced a

new private label brand – Nice! Nice! will include more than 400 high quality grocery and household products at prices up to 30% below other national brands, according to a news release from Walgreens.
The new Walgreens' brand will start appearing on store shelves in early 2012. It will feature non-conventional drug store brands, including soups, bakery, tea and rice.
According to A.C. Nielsen data, total private brand sales in the U.S. have increased from $64.9 billion in 2005 to $88.5 billion in 2010. The fastest growing store brand consumer segment is households with incomes more than $100,000.