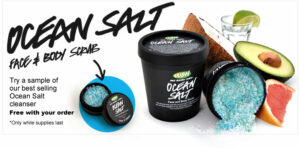 Lush, a manufacturer and retailer of fresh handmade cosmetics, serves up a very powerful brand experience when you visit their retail stores. I was just at a Chicago store in April and had the opportunity to visit a Philadelphia store this week to stock up on my favorite Lush products. My recent experience at both stores was very much the same.
Not only are the employees excellent sales associates, but they are very well educated on the products. They openly share their favorite Lush products and once they determine what you like, they immediately rush you to the sink and the product testing begins.
The sink is where the magic seems to happen. Sales associates lather you up with the latest soap or scrub and you get to experience what makes Lush products so fabulous. On my most recent visit, the sales associate applied Ocean Salt Cleanser to one of my hands. As soon as my hand was dry she told me to compare it to my other hand, and just like that I was sold. The Ocean Salt Cleanser made my skin feel softer and actually look brighter.
The sales associates court you throughout the entire store and share information about what's in the products and why it's good for your skin. While this can sometimes be overwhelming, the Lush store employees strike a balance between shopping with your best friend, being passionate brand ambassador and a good sales associate.
Their passion seems to override the fact that they are up selling you on almost everything you are buying. And I'm sure the longer they keep you in the store the more likely you are to spend more money.
Shopping at Lush is truly a brand experience and something the company has worked very hard to perfect from store design to employee and customer interaction. If you never had the opportunity to visit Lush, stop in next time and experience how the company's employees serve as its front line brand ambassadors. It is clearly a reminder that branding doesn't end with the marketing department.