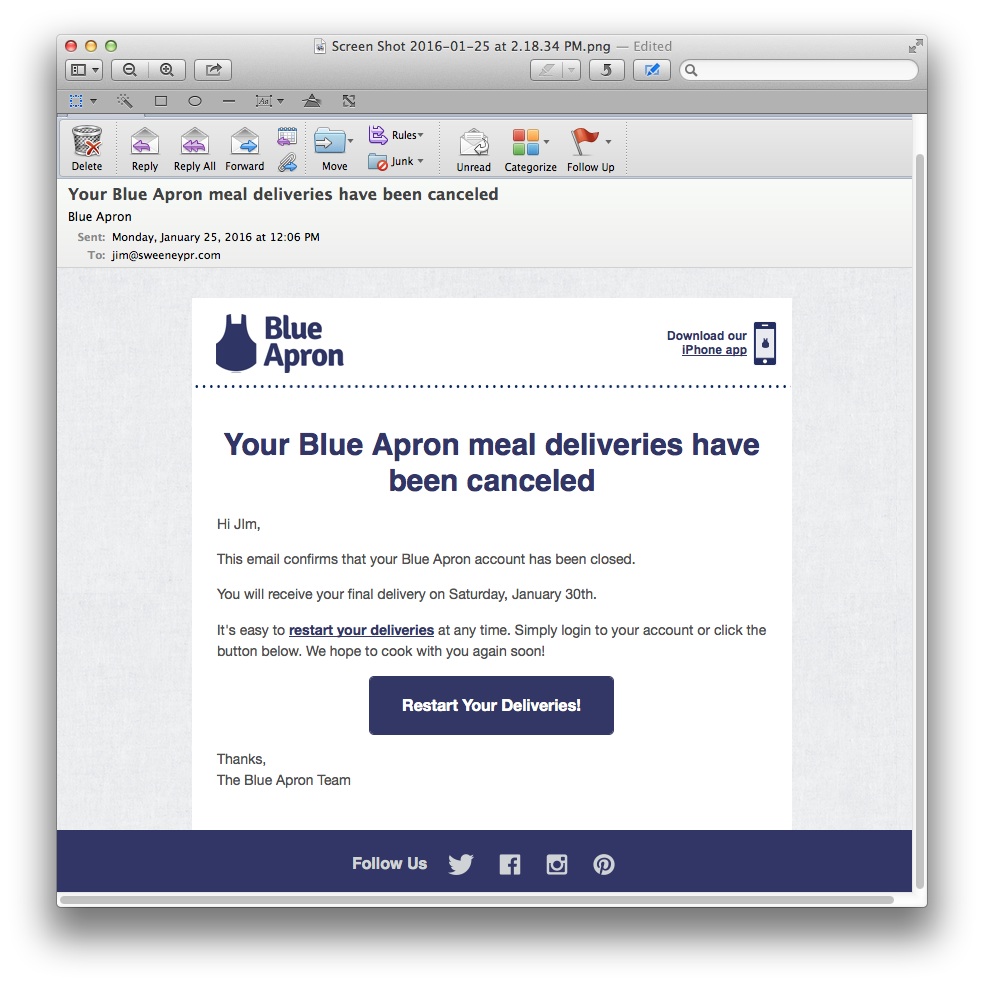 So I got this amazing gift from my son and daughter-in-law for Christmas, it was an introductory membership to Blue Apron. As an amateur foodie (faux chef), I was delighted over the prospect of receiving fully thought out recipes and fresh ingredients mailed directly to my door.
So I signed up and ordered my first week's delivery. You are required to pick three meals (one too many for a week's delivery, in my opinion) from a selection of six meals (more or less).
We managed to cook two of the three offerings over the first couple days, but busy schedules required us to freeze the fresh foods before they went bad.  And unfortunately, the second order and delivery went the same way.
As for the meals themselves, the recipes were great and the food was good (some better than others). Overall, I think the value (about $10/person) is exceptional. But I would give the customer more options  – either give your customers more to choose from or allow them to order less food.
So on a scale of 1-10, I would have given Blue Apron a 7.5… and then I got the above email: YOUR BLUE APRON MEAL DELIVERIES HAVE BEEN CANCELED.
Sheesh, that's kind of harsh. My kids bought me two orders and I had not even received the second order when this email showed up.
Maybe I'm just a little old-fashioned, but I prefer my correspondence with a vendor to be a little more cordial than, "hey, we got your money and our initial deal is up, so you are officially canceled."
My final assessment: Acceptable job on the food, good job on the menus, horrible job on the marketing. It's been over a week since I got that last email, with no follow-up to even ask me if I liked it. That's a shame.