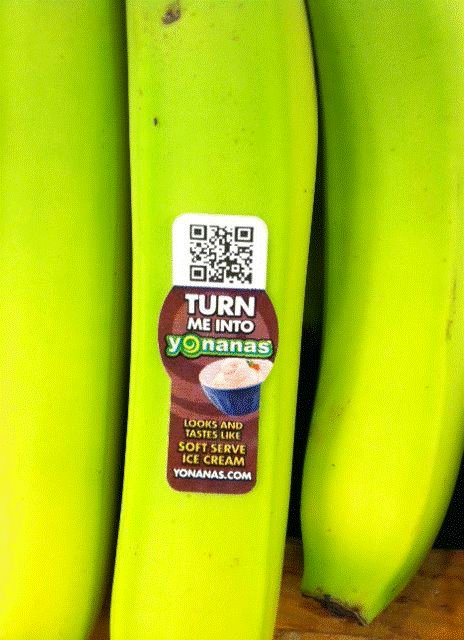 During lunch yesterday, I discovered a pretty interesting sticker right on my banana.  It was oddly shaped, with a QR code and website with a simple call to action: "Turn me into yonanas".
Intrigued, I visited yonanas.com and learned about a new kitchen gadget that can turn overripe bananas into delicious, healthy soft serve ice cream.  This marketing seemed directed right at me.  I'm often faced with the dilemma of what to do with the last banana in the bunch that I just don't want to eat.  And as someone who loves ice cream but hates how bad it is for me, I thought the marketing and product was a great idea.  There was even a video on the website showing yonanas featured on The Today Show. A quick scan of the yonanas Facebook page reveals a few people who saw the stickers and plan on purchasing a machine.
While this is definitely an unorthodox marketing strategy, it was a critical reminder to think beyond the obvious marketing strategies. In the case of yonanas, using the banana peel as advertising space made absolute sense, and they used smart creative and a clear call to action to support their message.  This is an excellent example of using an ad to engage rather than invade.  Rather than being offended to find an ad on my banana, I actually appreciate how well the company understands their target audience.
For your next campaign, consider how can you reach your customers with an ad that makes sense in their daily lives. There is no limit or shortage of possible locations for your next ad.