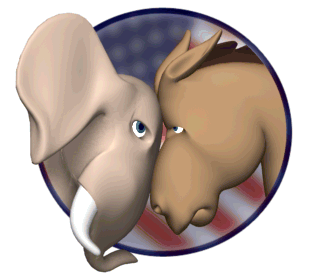 As we continue to move into the heat of the 2012 presidential election, marketing strategies and tactics continuing to unfold on both sides that fascinate me.
For example, my husband received the "Stand Up for America Survey" in the mail. It's a survey for the Republican Party and the results will eventually provide ammunition for the Republican campaign.
We have received these surveys before and I know how skewed they are. So when my husband said he was going to complete it, I was interested to see his response. After reading the first two questions, he refused to move on.
"President Obama and the Democrats have continually called for raising taxes to pay for even more new big government spending during the worse economic recessions in nearly 100 years. Republicans want to keep taxes low and reduce taxes on businesses to help create jobs. Which approach to tax policy do you support." – Obama/Democrat, Republican or No Opinion?
"Republicans have fought to shrink the size of government to stop the rapid accumulation of federal debt cased by President Obama's policies. Obama and the Democrats in Congress have called for more federal spending as the answer to every problem that confronts our nation and society. Which approach to federal spending do you agree with?" – Obama/Democrat, Republican or No Opinion?
The survey was so skewed it wasn't even funny. The bottom line is when it comes to political marketing anything goes.
I'll continue to post about political marketing strategies throughout the campaign. Feel free to share any you find interesting or just plain ugly in the comments section.