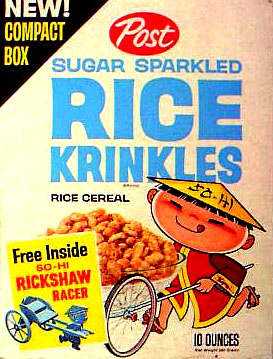 Every single day brings new hope for better health and a longer, pain-free life.  Or so it seems.
This week, we learn the University of Colorado Cancer Center found there is a "a delicate balance of bioactive components in rice bran that together show anti-cancer activity, including the ability to inhibit cell proliferation, alter cell cycle progression and initiate the programmed cell death known as apoptosis in malignant cells. The researchers showed that bioactive rice bran derived small molecules include, but are not limited to, polyphenolics, ferulic acid, tricin, β-sitosterol, γ-oryzanol, tocotrienols/tocopherols and phytic acid."
I have no idea what this means, but according to Food Product Design, the research "suggests that dietary rice bran may have beneficial effects against several types of cancer, such as breast, lung, liver and colorectal cancer."
Funny thing is, back in the 60s I was a huge fan of rice bran in the form of a creepy cereal called Rice Krinkles. As you can see from the box, Post was not very concerned with racial stereotypes back then.  Little "So-Hi" even offered kids a free Rickshaw Racer toy with each purchase.  But from a kid's POV, this stuff was an awesome sugary, sparkly cereal that got you running out the door in the morning. Then one day in 1969 it just disappeared off the store shelves, replaced by Puffed Rice (yuk) and Fruity Pebbles (I don't think so).
So I gave up on the rice bran. But in light of this new turn of events, I might be willing to give it a try.  After all, in the words of Peter Allen, everything old is new again.  Although I find it highly unlikely we will see the resurrection of So-Hi in the neighborhood grocery store… unless of course he is doing it Gangnam style.
Too soon?