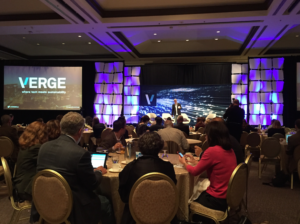 We're at GreenBiz's VERGE 2015 this week, where there have been some great conversations about accelerating sustainability solutions in an interconnected world.
From smart cities , to next-gen buildings, connected transportation and food and ag tech, the debates and discussions between companies, organizations and people leading the charge and innovation in our built environment, have been thought-provoking and exciting.
In fact, one of our clients, Enlighted, was among those leaders. Enlighted CEO Joe Costello presented on a panel discussion about how we can use the Internet of Things (IoT) to transform buildings – from workplace insights and logistics to employee comfort and happiness.
If you're in the sustainable building industry and VERGE isn't on your list of events to attend, marker it in for next year.