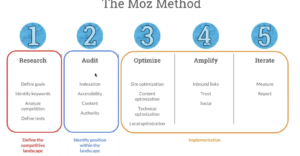 Did you know that for B2C companies, 89 percent of purchases start with a search query and 65 percent for B2B companies, with the majority of traffic going to the top three positions on the search engine page results? With the importance of SEO continuing to gain traction in the marketing arena, our digital team was looking to stay ahead of the curve by attending the Moz Academy SEO boot camp last week. The course was directed and hosted by Moz, the optimization experts.
The Moz method was at the core of this training with each day diving further into the components of the five fundamentals of SEO.
Research. Before starting any SEO campaign and after defining our goals, we must conduct keyword research that will help formulate our strategies and understand our audiences better. By pairing this knowledge with the sales funnel and searcher intent, we can predict which keywords will help us rank and reach people at the right time along their buyer's journey. Don't forget about competition, here's your chance to analyze your competitors and define their pain points so that your campaign has more chances to be successful!
Audit. This is when you will identify your position with the competitive landscape. There are two free tools available to us, Google AdWords Keyword Planner and Google Trends. The keyword planner tool is going to suggest keywords and give you the estimated search volume each word has in the market. Google Trends is going help you determine the volume of search interest of the particular topic. After utilizing these tools, you should have some solid keywords you're ready to move forward with and know how they will measure up against the competition.
Optimize. Optimizing your content will affect how your keywords perform and whether or not your content will gain traction in the marketplace. If we optimize our content properly we will rank for the keywords our customers are actually using and increase our click-through rates when people find us on the SERP, the search engine results page. If we are finding people at the right place and at the right time of their buyer's journey, our content will be fulfilling their needs and in return, they will remain on our site for longer. All of this eventually leads to conversion, which is the ultimate goal of implementing an SEO campaign, whether our conversion is the audience downloading an eBook or making a purchase.
Amplify. This is where you will enhance your implementation process and ensure that you're doing everything possible to receive the best results and rank higher. Link building is the process of acquiring links from other websites your own. Link building builds credibility and trust among your audiences because they're seen as endorsements from Google and the best place to start is by evaluating our links. You can use tools like MozBar to determine your domain authority, link equity and link opportunities. MozBar can also help you determine which sites are ranking and how your link building strategy can help you get there.
Iterate. Like all great methods, the last step in your practice is to measure and report. Measure the quality of your data by removing spam and create new goals based on the new metrics. When reporting we want to measure our awareness in the marketplace, what activity is taking place on our site and if our content is leading to conversions.
 

The Moz method was just the starting point for our in-depth week of SEO boot camp. If you're looking to learn more about SEO and the tactics, stay tuned for more blogs in this series as our digital team dives deeper into the concepts!