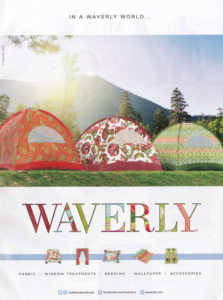 When you go camping, it is typical to bring the same equipment and to "set up camp" in a way that looks pretty similar no matter where you go camping. Each camping trip is different but has the same fundamental similarities. It's like good branding; you need consistency.
This week I was looking through Family Circle magazine in preparation for upcoming editorial meetings and saw an advertisement for Waverly. It immediately sparked my interest!
I suppose it's a hazard of the industry to think about branding when flipping through a magazine, but the ad had me thinking. I wondered if the Waverly World message was consistent to other marketing materials. After all, the ad was the perfect combination of the outdoors with beautiful fabric designs. And during the spring, who doesn't want to imagine a picturesque scene in the mountains paired with feminine designs?
Then I got curious if the tents in the ad were actually made with Waverly fabric or if they were digitally designed. So I checked out www.waverly.com as well as the company's social media sites. In fact, I found consistent digital animations right on the home page that perfectly aligned with the print ad!
Just like my favorite camping trips, the fundamental experience was consistent. And I was delighted. If there is one thing I truly enjoy in our business, it's seeing brands that understand the value of quality marketing, consistent messaging and connecting the dots between digital, print and social to strengthen a brand image!