I know, it's a bold claim. But I'm 99% sure it's true. Warby Parker offered me the best shopping experience I have ever had when purchasing something online. "Why", you ask? Let me explain.
I needed a new pair of prescription glasses and didn't want to invest bookoo dollars in designer frames. So, I skipped the eye doctor's selection and went online. Because the internet is creepy, a sponsored post from Warby Parker showed up in my Facebook news feed. I recognized the brand because just a few weeks before, one of my friends posted her new Warby Parker specs on Instagram. She's "fashion forward", and I am not, so I investigated.
While I was intrigued by the website design, what caught my eye most was 5 Days, 5 Pairs – Free! Say what!? You're going to package 5 frames I select and mail them to me to test them out, for free? Yes, please.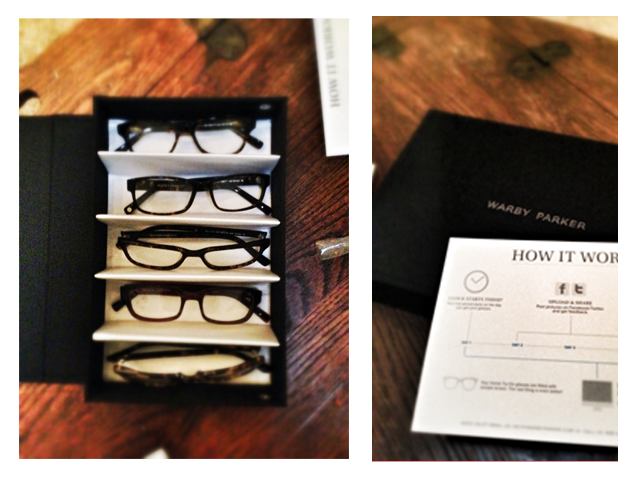 Several days later I received my frames in the mail. The presentation of the package is cute, and the marketing materials are spot on. And, to top it off…  while I was shamelessly taking selfies in the glasses, I opened my email and found this genius message from Warby Parker. Click the link and see for yourself! Whoever came up with this idea, kudos to you.
While it just looks like an ordinary email at first glance, scroll down and see the three things it has working for it:
The section of the email with links/photos to the exact frames that were delivered to me
Easy access to purchase with "Add to Cart" functionality
The timing at which the email was delivered – It gets delivered to you when your package arrives, so I literally saw the email while I was trying on the frames. Magical.
Warby Parker made it easy for me to go from a browser to a purchaser in minutes, within the confines of my own home. So, what did I do? Found the frames I liked, clicked them from the email to add to my cart and boom, done. Simple, hassle-free online shopping experience.
The only thing I did not do was share pics on social media, which they ask you to do multiple times. Maybe if there was an incentive for sharing on social, I would have (e.g. discount code)… maybe there is an incentive and I missed it!? Anyways,  I did Snap Chat pics to some of my select girlfriends for more "private" feedback (marketing with SC might be something to consider, Warby Parker).
Actually, now that I think about it… I am sharing Warby Parker on social right now thanks to this blog post.
Shoot… they got me good.