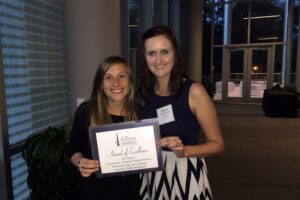 WILMINGTON, N.C. – May 13, 2015 – Sweeney, a leading full-service marketing and public relations agency, received the Bronze InSpire Award from the Public Relations Society of America (NC chapter) at it's 2015 InSpire Awards banquet. The award recognizes Sweeney's digital campaign with national retailer Big Lots.
Sweeney developed and implemented a national social media and blogger campaign to launch Big Lots' inaugural National Decorate Your Home for the Holidays Week. The campaign engaged consumers to decorate their homes for the holiday season early and on a budget. The agency employed digital marketing, social media, and publicity and media relations tactics to reach more than 70 million consumers.
"We are honored to have worked with the Big Lots marketing team and to be recognized for our work again this year by the NCPRSA," said Jennifer Manocchio, president, Sweeney. "Our campaign successfully used the power of influential bloggers and social media engagement to achieve awareness and engagement goals."
The campaign kicked off with a blogger contest, challenging seven top home décor bloggers to transform a space in their home using Big Lots merchandise. The winning blogger hosted a Twitter party with tips and tricks for home decorating. Customers were also challenged to take part in a "selfie sweepstakes", where Facebook, Twitter and Instagram users could submit a selfie with their favorite holiday decor item for a chance to win a $250 gift card.
Public relations efforts on behalf of the campaign garnered more than 72 million media impressions; digital impressions totaled nearly 10 million. Big Lots social media channels also achieved a 156 percent increase in engagement.
The NCPRSA InSpire Awards honor overall excellence and innovative communication plans. The Bronze InSpire Award honors the use of a specific tactic or component of a plan.
About Sweeney
Sweeney, established in 1986, is a leading national marketing and public relations firm with offices in Cleveland, OH (headquarters), Wilmington, NC and Santiago, Chile. Sweeney specializes in building, launching and managing brands, products and services for a wide range of consumer, business, industrial and institutional organizations. For additional information, visit www.sweeneypr.com.