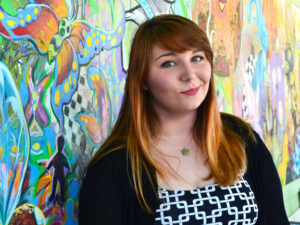 CLEVELAND, OH – Jan. 5, 2017 – Sweeney, a leading full-service agency, announces the addition of Courtney Klesta as graphic designer to the agency's growing creative department. Klesta will report to the art director and be responsible for creating a wide range of visual concepts for traditional and digital platforms, including identity, advertising, literature, packaging, websites, social media content, booths and displays, and more.
"Courtney is a critical addition to our growing creative department," said Jennifer Manocchio, president of Sweeney. "She is an incredibly talented and versatile designer, but is also very strategic in terms of understanding campaign goals to help drive desired actions."
Klesta will support many of the agency's consumer, business-to-business and industrial accounts, including Cleveland APL, CORDURA® brand, LSI Industries and Joann Fabric and Craft Stores. As an experienced graphic designer, Klesta offers exceptional expertise in concept development, illustration, brand identity, print and digital design, motion graphics, 3D art and hand lettering.
Klesta is a graduate of Kent State University with a degree in visual communication design and a minor in communication. She works from the agency's headquarters in Cleveland, but also services accounts from Sweeney's Denver and Wilmington offices.
About Sweeney
Established in 1986, Sweeney is a full-service agency with offices in Cleveland, OH (headquarters), Wilmington, NC and Denver, CO. As a fully integrated marketing communications firm, Sweeney develops and executes award-winning campaigns – branding, graphic design, advertising and media, publicity and media relations, social media, blogger relations, crisis communications, direct marketing, web development, search optimization, trade show marketing, product launch, events and more. For additional information, visit www.sweeneypr.com.
#    #    #