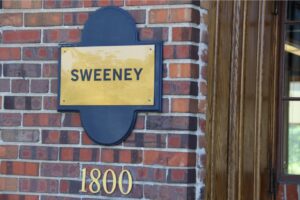 DENVER – June 28, 2017 – Sweeney, a leading full-service agency, has opened a Denver office to focus on regionally based clients and continue building its outdoor marketing practice. Denver is the firm's third full-service location in the U.S., and its fifth office overall. The new space is located in Denver's LoHi neighborhood, at 1800 Platte Street.
Sweeney currently represents multiple clients west of the Rockies, and is aggressively growing its outdoor marketing practice. Rachel Kaylor, director of digital + social and group manager, is managing the new operation and heading up business development efforts in the region.
"This is an exciting time for Sweeney, and an amazing time to be working with the outdoor industry," said Kaylor. "We are seeing a huge shift in the way business gets done today – from product design and production to retailing and the very definition of modern recreation. So our conversations with clients and prospects in the region are focused on how we can help brands overcome new hurdles in order to more effectively innovate and successfully reach their customers."
Kaylor, who joined Sweeney in 2012 and managed the agency's Wilmington, NC office for two years has been instrumental in helping to grow the agency's consumer and business account teams, lead the expansion of social and digital services, and is now on a mission to grow the firm's west coast presence and outdoor industry business.
"We are truly excited to expand west of the Mississippi from our new Denver base," said CEO Jim Sweeney. "It is an amazing community and the perfect hub through which we will service clients from San Diego to Seattle and Phoenix to Portland. It is a great time to be in Denver, and a great place to be working."
In addition to the Denver location, the agency has two full-service locations including its headquarters in Cleveland, OH and its Wilmington, NC office. The agency also has satellite offices in Columbus, OH and Raleigh, NC.
For more information about Sweeney and its services, please visit sweeneypr.com or contact Rachel Kaylor at 720-787-7902 ext. 301 or Rachel@sweeneypr.com.
About Sweeney
Established in 1986, Sweeney is a full-service agency with offices in Cleveland, OH (headquarters), Wilmington, NC, Denver, CO, Columbus, OH and Raleigh, NC. As a fully integrated strategic and creative agency, Sweeney researches, strategizes and executes award-winning campaigns for a wide range of consumer, business and industrial clients – branding, graphic design, advertising and media, publicity and media relations, social media, blogger relations, crisis communications, direct marketing, web development, search optimization, trade show marketing, product launch, events and more. For additional information, visit www.sweeneypr.com.
#    #    #