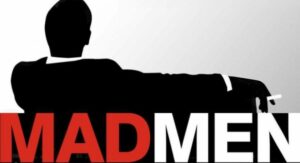 CLEVELAND – May 14, 2015 – To observe the conclusion of the landmark and award-winning TV drama Mad Men, Sweeney has produced a dedicated landing page and a special edition if its InSites newsletter. The commemoration celebrates Mad Men's recounting of the advertising industry and recognizes its acting and storytelling achievements.
"We want to show our appreciation to Matthew Weiner, his team of exceptional writers and directors, and the amazing actors who brought Madison Avenue circa 1960 back to life," says Sweeney CEO Jim Sweeney. "We are about to conclude an amazing 7-year ride on Don Draper's carousel, and we simply want to say thanks."
Mad Men debuted on AMC in 2007, covering the decade of the 1960s from the perspective of a fictional New York advertising agency, Sterling Cooper & Partners. The highly acclaimed show will conclude this Sunday, May 17.
"Clearly – and gratefully – a lot has changed in our industry over the past 45 years," says Sweeney. "The people, the attitudes, the issues, the technology and the approach to marketing and advertising have all evolved. But Mad Men has reminded its viewers that creativity with a purpose remains the cornerstone of our industry."
About Sweeney

Sweeney, established in 1986, is a leading full-service marketing and public relations firm with offices in Cleveland, OH (headquarters), Wilmington, NC and Santiago, Chile. Sweeney specializes in building, launching and managing brands, products and services for a wide range of consumer, business, industrial and institutional organizations. For additional information, visit www.sweeneypr.com.