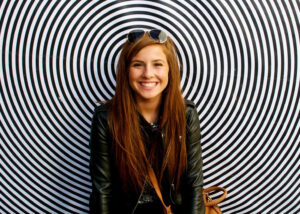 WILMINGTON, NC – October 13, 2016 – Sweeney, a leading full-service agency, announces the addition of Karsu Nalbantoglu as a Videographer + Photographer, Account Coordinator. Nalbantoglu will support the agency's storytelling, video production, animation and photography services. She will also be involved in content development for social media and digital marketing, and support creative concepting and storyboarding.
"In the marketing world where storytelling is one of the most important aspects of our business, Karsu brings a unique perspective to the team through her work and creativity as a documentarian," said Jennifer Manocchio, president of Sweeney. "We are excited to expand our in-house videography and photography services, continuing to offer clients more and more marketing expertise to deliver bigger, better results."
Nalbantoglu joined Sweeney as an intern in October 2015. She has been responsible for supporting videography, photography projects, as well as supporting digital marketing and public relations strategies and tactics.
Nalbantoglu's most recent documentary work entitled Gotong Royong debuted globally at two film festivals – the Awareness Film Festival in Los Angeles, and the Eco Film Festival in Kuala Lumpur, Malaysia. The documentary is a portrait of a man with a small idea who believed in the power to make a change. By embracing the aid of urban cycling, he made a big difference for his city.
Nalbantoglu is a graduate of the University of North Carolina Wilmington where she earned dual bachelor's degrees in communication studies and film studies. She works out of Sweeney's Wilmington, NC office.
About Sweeney
Established in 1986, Sweeney is a full-service agency with offices in Cleveland, OH (headquarters), Wilmington, NC and Denver, CO. Sweeney develops and executes a wide range of award-winning campaigns – branding, graphic design, advertising and media, publicity and media relations, social media, blogger relations, crisis communications, direct marketing, web development, search optimization, trade show marketing, product launch, events and more. For additional information, visit www.sweeneypr.com.
# # #