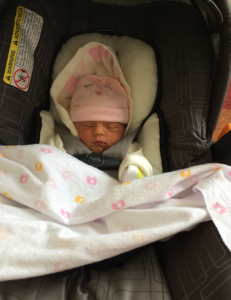 CLEVELAND – September 17, 2015 – Jennifer Manocchio, Sweeney president and GM of global operations, announced today the agency is expanding its presence in South America with the addition of Ayla Nicole. Ayla officially joined the team at 1:45 a.m. on Monday, September 14, following a 9-month internship.
Agency founder and CEO Jim Sweeney says he is truly pleased and excited with the firm's growth. "We celebrated the one-year anniversary of our South American operation just last month, " says Sweeney. "During this relatively short period, and during the last few months in particular, Jennifer has achieved significant and visible growth that has now resulted in the addition of Ayla Nicole."
Despite her internship, Ayla is a newcomer to the agency world. "We expect her to crawl before she walks," says Manocchio, "But we fully expect her to make an impact. Sweeney has a reputation for taking huge business risks, however, when it comes to personnel hiring, training and advancement, we believe in a more conservative "baby steps" approach."
Although a U.S. citizen, Ayla is also a South American native, capable of communicating equally effectively in both English and Spanish.
About Sweeney
Sweeney, established in 1986, is a leading national marketing and public relations firm with offices in Cleveland, OH (headquarters), Columbus, OH, Wilmington, NC and Santiago, Chile. Sweeney specializes in marketing brands, products and services for a wide range of consumer, business, industrial and institutional organizations. For additional information, visit www.sweeneypr.com.
#          #          #