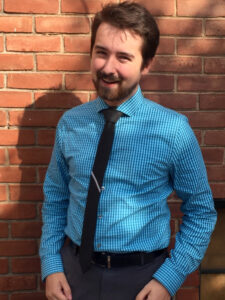 CLEVELAND, OH – Sept. 7, 2017 – Sweeney, a leading, full-service agency, announced today Alex Robinson has joined the creative team as a graphic designer. Robinson will support client and agency creative campaigns and projects from brainstorming, to concepting and design.
Bringing a fresh perspective to the creative team, he will support a number of the agency's consumer, business-to-business and industrial accounts, including Cleveland APL, CORDURA® brand, Tech Air, Enlighted and more. He excels in a wide-range of creative capabilities, including illustration, typography, layout design, print and digital design, brand standards utilization, motion graphics, wayfinding, event/trade show marketing, logo development and photo editing.
"Creative is a key aspect of what we do daily from strategizing creative campaigns to photography, videography and design," said Jennifer Manocchio, president of Sweeney. "It is critical we have the right creative team in place, and Alex's versatile creative experience with both print and digital marketing is the perfect complement to our current creative team.
Robinson most recently served as a graphic designer for The Centers for Families and Children in Cleveland, where he developed digital and print campaigns focused on supporting the non-profit's mission.
Robinson is a member of AIGA and a graduate of Bowling Green State. He holds a bachelor's degree in graphic design and a minor in creative writing. Robinson currently resides in Lakewood, Ohio.
About Sweeney
Established in 1986, Sweeney is a full-service agency with offices in Cleveland, OH (headquarters), Wilmington, NC, Denver, CO, Columbus, OH and Raleigh, NC. As a fully integrated strategic and creative agency, Sweeney researches, strategizes and executes award-winning campaigns for a wide range of consumer, business and industrial clients – branding, graphic design, advertising and media, publicity and media relations, social media, blogger relations, crisis communications, direct marketing, web development, search optimization, trade show marketing, product launch, events and more. For additional information, visit www.sweeneypr.com.
#  #  #