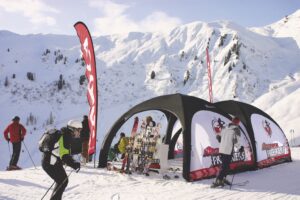 CLEVELAND — April 6, 2017 —Leading full-service agency Sweeney announces the addition of X-GLOO Creative Event Equipment, a brand of Skywalk GmbH & CO KG, to its portfolio of outdoor and event industry clients. X-GLOO, a leading global manufacturer of inflatable event tents has engaged Sweeney to support its expanded presence in North America and build brand awareness for its unique family of high quality event tent solutions. With full surface dye sublimation printing, endless customization and branding options are available.
Headquartered in Marquartstein, Germany, X-GLOO is an international industry leader in the design and manufacture of creative event tents, elements and accessories. X-GLOO tents are durable, inflatable, and easy-to-set-up solutions for events, festivals, retail environments and more. The company is establishing its first North American office in Charlotte, NC during the second quarter of 2017.
"We are excited to help X-GLOO launch its new dedicated North American operation and its unique high quality brand in the United States, Canada and Mexico," said Sweeney President Jennifer Manocchio." X-GLOO is an exceptional product that ties in well with our outdoor, retail and textiles experience.
Sweeney will implement an integrated publicity, social and direct marketing campaign. The efforts will focus on the unique features and benefits of the X-GLOO inflatable tent compared to traditional pop-up tents and exhibits.
About Sweeney
Established in 1986, Sweeney is a full-service agency with offices in Cleveland, OH (headquarters), Wilmington, NC, Denver, CO, Columbus, OH and Raleigh, NC. As a fully integrated strategic and creative agency, Sweeney researches, strategizes and executes award-winning campaigns for a wide range of consumer, business and industrial clients – branding, graphic design, advertising and media, publicity and media relations, social media, blogger relations, crisis communications, direct marketing, web development, search optimization, trade show marketing, product launch, events and more. For additional information, www.sweeneypr.com.
For more information about Sweeney, please visit sweeneypr.com.
#   #   #