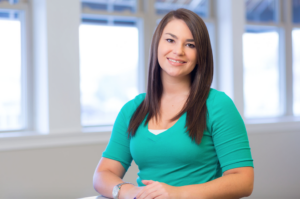 CLEVELAND – Sept. 3, 2015 – Sweeney, a leading full-service marketing and public relations agency, has added Leah Evanovich as an account executive. She will play a key role in expanding the agency's social and digital capabilities, as well as supporting traditional marketing, advertising and public relations strategies for a variety of business-to-consumer and business-to-business clients.
Evanovich joined Sweeney in May 2014 as an intern and spent a year with the agency, supporting publicity and media relations, social media, research and reporting. She most recently completed a post-graduate internship in media planning and buying.
"Leah proved herself to be a tremendous asset to the agency, and we are thrilled to have her on board as a full-time team member," said Jennifer Manocchio, president of Sweeney. "Her experience in a variety of marketing and public relations strategies while at Sweeney and her newly acquired skillset in digital media will prove invaluable to clients."
She will provide traditional, digital and social support to accounts including Jo-Ann Fabric and Craft Stores, Kent State University and CORDURA® brand.
Evanovich graduated summa cum laude from Cleveland State University, where she earned her bachelor's degree in promotional communication.
About Sweeney
Sweeney, established in 1986, is a leading national marketing and public relations firm with offices in Cleveland, OH (headquarters) and Wilmington, NC and Santiago, Chile. Sweeney specializes in building, launching and managing brands, products and services for a wide range of consumer, business, industrial and institutional organizations. For additional information, visit www.sweeneypr.com.
#          #          #