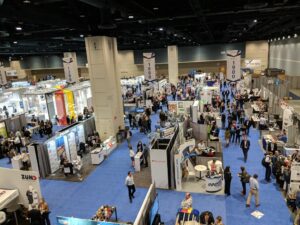 If you can't tell from some of my previous blog posts, I'm a big fan of trade shows. Stepping away from a normal routine to learn about the industry face-to-face with other innovators is invaluable – and the audience at Techtextil North America is at the forefront of technological advancement in textiles.
Luckily for team Sweeney, Techtextil was right in our backyard this year – so we got to head up the road to the Raleigh Convention Center to spend a day exploring the latest in an industry near and dear to our hearts. The show floor, albeit smaller than what we saw last year in Atlanta, was bustling with booths representing nearly every step of the supply chain. We saw 3D knitting companies like Shima Seiki U.S.A. Inc, one-stop-supplier-shops like MMI Textiles, and a variety of other machinery, coating and printing companies to name a few.
If there's one major takeaway from everything we saw at the show, one common tie between all of these brands that serve many different needs, it's that sustainability is key. We've known this for a long time, but the more shows we attend the more prevalent it becomes.
And when I say sustainable, I don't just mean recyclable. There are so many facets of sustainability within the textiles space that it's almost impossible to name them all. There's reducing resources used in the manufacturing process like water, carbon dioxide and heat. There's making sure that even the smallest scraps are repurposed into something bigger. There's dedicating your brand to making products that last, reducing the need for consumers' need to continue investing in new products. There's offering programs for consumers to recycle their products to be refurbished rather than tossed in a landfill. There's even a program to donate old denim jeans to be recycled into insulation.
But what does this increased focus on, if not demand for, sustainability mean for us as marketers? The textile space isn't the only place where this conversation is buzzing; there's a much bigger picture here. It means that we know consumers, and furthermore, B2B partners are continuing to make the shift towards caring about not only the products our brands offer, but the ethics behind how they are created. Soon, if not already, it's not going to be enough to have the best product. It's going to be about the best product that has the most positive impact.
Interested in learning more about our work in the textiles space? Contact me at morgan@sweeney.agency.