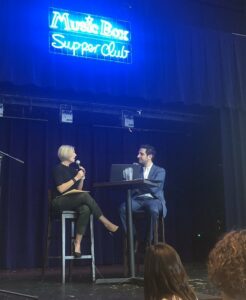 Getting your story covered on an outlet like The Today Show, whether it be a segment or social post, is no easy task. As one of hundreds – if not thousands – of weekly pitches, what makes one stand out? We got the inside scoop.
At this year's Cleveland PRSA Business and the Media event, long-time producer of The Today Show, Adam Miller and WKYC journalist, Sara Shookman, talked about pitching in a digital age. With a digital-first mindset, Adam (now the Director of Content at WKYC) is focusing on complementing WKYC's breaking news with digital strategies such as push notifications and social media in his new role.
These days, a pitch can involve a lot more than a news release. It can (and should) include visual elements, social posts and perhaps even be a pitch for an Instagram TV, Facebook Live or YouTube video versus a television segment or web article. However, no matter what form of content you're pitching Adam offers some basic actions that always apply.
The biggest do? Know your audience (and the program's name). Believe it or not, Adam received pitches addressed to Good Morning America. He also stressed how important it is to watch the broadcast you're pitching so you know what is covered at each hour and what would be in specific peoples' wheelhouse. Personalized and unique pitches are a major win, and anytime a story can be humanized, it's even better!
On that same note, when it comes to television, quirky and visual are keys. He gave the example of a pitch from Noodles and Company where Kathie Lee Gifford and Hoda Kotb tried to break the Guinness World Record for the most vegetables spiralized in one minute by bicycle. This was an ideal pitch because it was directed to Hoda who loves quirky things, so it showed Noodles and Company knew exactly who they were pitching… and it was definitely unique. Pitch extremes are also winners "biggest," "fastest", "tallest" etc.
And one last piece of advice: even in the digital age, relationships remain key. Adam and Sara shared that helping a producer/reporter to do their job goes a long way to get your story picked up, so make sure you personalize your emails and mention previous collaborations. On the flip side, if you send a pitch and can't deliver on what you are offering in a timely matter, it likely will ruin any future opportunities.
[Blogger Note: Thank you to
PRSA Cleveland
, Adam Miller and Sara Shookman for a great event and useful insights!]