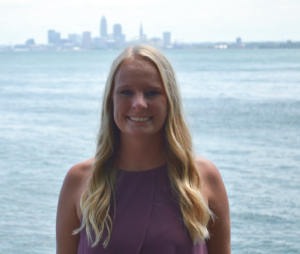 CLEVELAND, OH – May 25, 2017 – Sweeney, a leading full-service agency, announces the promotion of Rachel Dill to Account Executive and Digital Specialist.
In her new position, Dill will continue to manage traditional marketing, advertising and public relations for multiple B2B and B2C clients while also increasing her involvement in leading the continued expansion of the agency's digital services.
Dill joined Sweeney in May 2015, supporting research, publicity and media relations, social media and direct marketing campaigns for multiple agency accounts, including The Container Store, Jo-Ann Fabrics, CORDURA® Brand, Planned Parenthood, Kent State University and the San Diego Lighting Association. During the past two years, she has earned certifications in several key areas, including: Google AdWords, AdWords Video, Email Marketing, Search Engine Optimization and Search Engine Marketing.
"Rachel is an incredible asset to the agency and our clients," said Jennifer Manocchio, president of Sweeney. "Her traditional and digital skillsets are playing a key role in helping us innovate and take advantage of new digital marketing opportunities."
Dill graduated with honors from Ohio State University, where she earned her bachelor's degree in strategic communication with a double minor in professional writing and fashion and retail studies. Dill currently resides in Westlake, Ohio.
About Sweeney
Established in 1986, Sweeney is a full-service agency with offices in Cleveland, OH (headquarters), Wilmington, NC, Denver, CO, Columbus, OH and Raleigh, NC. As a fully integrated strategic and creative agency, Sweeney researches, strategizes and executes award-winning campaigns for a wide range of consumer, business and industrial clients – branding, graphic design, advertising and media, publicity and media relations, social media, blogger relations, crisis communications, direct marketing, web development, search optimization, trade show marketing, product launch, events and more. For additional information, visit www.sweeneypr.com.
#  #  #