I've attended Outdoor Retailer just about every 6 months for going on 5 years now. So I'm no stranger to the big product demonstrations, the volumes of beer-thirty parties and other booth traffic-driving strategies.  But sometimes, it's the little things that catch the eye…
We're all about getting the most out of the trade show experience. So we wanted to use the captive audience at OR Show to gain insights about brand awareness, industry trends and media consumption habits of our client's key personas. We developed a survey to conduct at the booth.
Now, we needed to drive traffic… the message was simple. Take a survey, get free socks. Everyone wants free swag at OR Show. We knew we couldn't go big with promotion like wrapping the stairs with arrows or lining the bathrooms with stickers due to cost. Promoting on handouts, social media, the OR Show Daily Free Stuff section – all great cost-effective strategies and things we took advantage of. But what else could we do that is eye catching?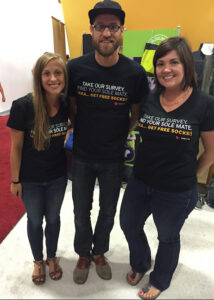 Enter quirky t-shirts. "Ask Me How to Get Free Socks" was a winner. The team wore the shirts each day of the show and was constantly asked how and where to get free socks! We walked the floor and had people follow us back to the booth. People came by saying they saw us at the hotel and took photos of the booth number on our back so they would stop by. I was even eating dinner at a restaurant one night (still wearing my shirt fresh off the show floor!) and a woman tapped my back and asked if we were still doing the sock giveaway the next day.
Sometimes it's the simple things that work. Survey success. We surpassed our survey collection goal and are now analyzing the projectable data for insights!