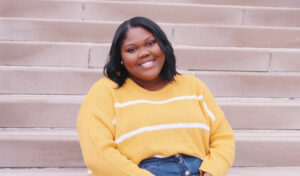 When Sweeney's new Integrated Marketing Associate, Dominique Buchanan, graduated from Bowling Green State University in 2020, she knew she would pursue a career in marketing. In fact, she's known that since sixth grade. Get to know more about our newest team member, including who she admires as role models, her favorite college accomplishment, and her advice for upcoming graduates!
What inspired you to pursue a career in marketing?
I knew I wanted to work in marketing since I was 11 years old. I remember seeing a character on a show who worked at an agency and thinking it seemed like the coolest job ever. That same year, my 6th grade class had to take career tests, and my result was that marketing was the industry best suited for me. From that moment on, I never changed my mind!
Who are your personal and professional role models?
My personal role model is my mom who taught me so many important life lessons.
My professional role model is Lindsay People's Wagner who was the former editor-in-chief at Teen Vogue magazine and the current editor-in-chief at The Cut. Lindsay was one of the youngest women to hold this title and managed to majorly impact both publications. I love that she is paving the way for women of color in both fashion and leadership positions.
Looking back to your time in college, what is an accomplishment you are most proud of?
During my senior year of college, I worked for the marketing department of Bowling Green State University Recreation & Wellness. There was a new initiative on campus being developed called THRIVE, and I had the opportunity to be a part of the entire process.
This initiative focused on overall wellness, not just physical. I collaborated with another student employee to create a mural that reads "I put the I in THRIVE." It's meant to be used as a photo background where the person posing in front becomes the letter I in the word THRIVE. I'm most proud of this accomplishment because I got to leave my mark on my college town that will be displayed in that Student Recreation Center for years to come.
What advice do you have for recent graduates that are navigating a tough job market?
My advice is to take the extra time to research and make sure the companies you are applying to will help you expand your professional skills. While you should be looking for a place where you think your skills will enhance their team, you should also be sure it's a place that takes pride in helping their employees grow professionally. Set a goal for how many positions you should apply for per week and stick with it!
What are you most looking forward to as you begin your career with Sweeney?
I'm most looking forward to learning from people who have years of expertise in the industry. I've always made it a point to surround myself with people who I felt could help me develop both personally and professionally, and I know Sweeney will be no different.
If you were a brand, what would be your motto?
Be kind and do good.
On a personal note, what brings you joy?
I find joy in spending time with my family, reading, baking, fashion, makeup, and watching cooking videos!