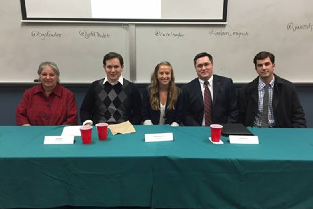 This past week I had the privilege of speaking with UNCW students on a panel of local media contacts and other public relations professionals – and boy did we have a packed house!!
The panel session – Media Relations: It's Complicated – aimed to encourage discussion about the relationship between media and public relations professionals, which is often depicted as negative. At Sweeney, we believe the relationship between media and PR reps is symbiotic. We are very strategic about how we approach media and ensure that what we are communicating is news that is beneficial to their audience. We want to be an asset and resource for the media on behalf of our clients.
Here are some key takeways and tips from our local contacts at WECT, The Star News and Time Warner Cable media for public relations efforts – and we agree wholeheartedly!
1. Know your media contacts and avoid blasting/calling everyone at the station/publication. If you have multiple contacts at the outlet that your story is a fit for, do not hesitate to copy all of them on your email. That helps them eliminate back and forth internally.
2. Be aware of what time you're calling the media. Call with your story before the editorial meetings and avoid calling at deadline time.
3. If you are pitching broadcast, make sure you are pitching something that is visual. Don't waste their time if they can't communicate the story through video.
4. Speedy follow-up is necessary. They need images and interviews quick. Ensure you have someone who can comment on a story at the drop of a hat and images/visuals ready to roll if you didn't already share them during your initial pitch. Deadlines are tight. If your contact isn't available quickly, have a back-up on hand or reassess offering an interview.
5. Consider different lead times of different types of media. Consumer magazines need information much further in advance than your local newspaper or broadcast stations.
Thanks to everyone on the panel – it was great connecting with our local media and other public relations professionals to educate our future industry influentials! And special thanks to the UNCW Communication Studies Department for inviting, organizing and hosting!
Picture Left-to-Right: Bess Fowler (Time Warner Cable), Jeff Hidek (The Star News), Rachel Kaylor (Sweeney), Adam Myric (Blue Cross, Blue Shield) and Justin West (WECT).