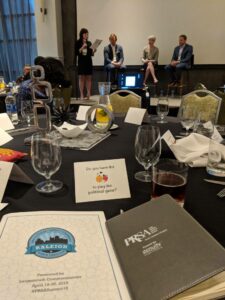 I love the chance to get out and network with other professionals in my community – especially through awesome organizations like PRSA. This year, I was lucky enough to have their Southeast District Conference here in Raleigh.
The pre-conference, lunch keynote and afternoon breakout sessions were packed with tons of media relations tips, tricks and best-practices from experts at SAS, NASA and more!
Check out a few key takeaways below.
As communicators, we have to earn our "seat at the table" in decision making. Look for change as an opportunity to leverage your expertise and do so.
The landscape is changing every day. Be aware of the "axes of convergence" – media outlets and media sources, competitors and collaborators, physical and virtual reality, "official" news and real news, and the general overlap in PR, communication, advertising and marketing.
On the subject of real news, not everything is newsworthy, and it's our job as PR professionals to make that distinction. A good question I learned to ask yourself is "would anyone but your momma care about this?"
Before anything else, media are people, and relationships are the foundation to success. Embrace the "5 R's of media relations": be respectful, be responsive, be responsible, be realistic, be a resource.
Right-size your communication plan for your organization – and make sure it includes quantitative and qualitative measurement of your objectives.
If you're in the area, be sure to check out the conference and NCPRSA chapter – they're well worth the investment!