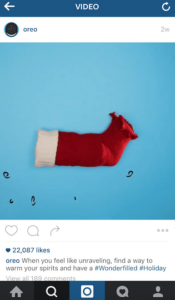 In an era of decreasing attention spans, it is important to capture a video viewer's attention before they simply flick their thumb and scroll past your post. Social videos can be an extremely effective tactic for brands that want to produce low-cost, high- traffic ads for their products or services. However, being able to capture the audiences' attention as well as express an idea while provoking customer interest – all under 15 seconds (the maximum length for an Instagram video) – can be difficult.
Fortunately, there are a number of creative strategies that can make shorter video clips effective. Brands must be mindful of the fact that every second counts when creating videos for social media outlets. With only 15 seconds, content that is remotely disengaging can easily lead a viewer to scroll on without finishing a clip.
In 2015, the use of time-lapse, stop-motion, clip reversal and animation became extremely popular trends used by many brands. Using video content for marketing purposes has increased by 73% this past year. And among the many video ads posted in 2015, these four companies stood out by combining a variety of elements to create fun and engaging videos.
Whether it is 6 seconds or 15, on Vine or Instagram, engagement is crucial and creativity is the key. By combining existing techniques and expanding the realm of possibilities, the only limits for for social media videos are your imagination.