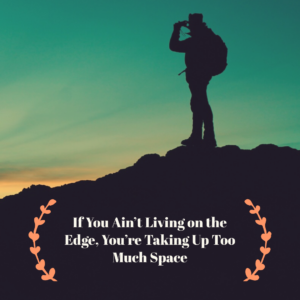 To begin, I must confess that this tagline was originally used to convince my college roommate to make irresponsible decisions. This mantra, however, to my amusement, is finding application in our industry today. With marketing constantly evolving, we must be willing to take thoughtful risks with our own brands while simultaneously encouraging our clients to "live on the edge" as well. Here are three things to consider when evaluating risk taking in marketing.
Take the Dive
When faced with the right opportunity to create something remarkable for your brand, always take the dive. Consumers come to us looking for something different, something worth their money, which may make us timid to try new things, but innovation doesn't happen within our comfort zones. Don't be scared to suggest a "crazy" idea if you believe it will help distinguish your brand in the marketplace and is rooted in strategy. We wouldn't recommend diving in head first in the shallow end just for the sake of being crazy. But when the idea is right for your brand and brings you closer to reaching your audience authentically, then think big, think different, think "crazy". You'll find some people on your team are closet thrill seekers, they are just looking for someone to lead the way. Look back at brands, like Dove, who took a huge risk when they launched the "real beauty" campaign, at the time it was rare for beauty companies to use real women that actually reflected the consumer base and not a size zero model. This campaign revolutionized the brand and the risk was well worth it when the reward was life-long brand advocates.
Test the Waters
Once you present the team with your "living on the edge" strategy, it's time to test the waters! With technology giving us access to instant results and feedback, it's easier than ever to test out new strategies and immediately know how it's being perceived by your audience. Test your strategy on multiple different platforms and nail down, by analyzing the data, which platform will be best for your content. We had a B2B client that was tentative to including social media in their marketing plan. After encouraging them to live on the edge, we were happy to show them instantaneously that social media was a great platform to reach their audience in ways they hadn't been able to do before!
Don't Flood the Pool
As marketers, we've been told that content is key, but some are quick to misjudge this statement. Quality content is key. Instead of flooding your audience with irrelevant and generic content just for the purpose of creating content, be thoughtful and creative when executing any marketing campaign. Customers are unlikely to become brand advocates if your content is bothersome instead of beneficial. Be selective in what you send to your audiences. To tie in our title, of course, we want to take up space in our industries but don't take up space with useless content. Instead, create unique campaigns that will make waves for your brand and not a belly flop.
In closing, don't be left clinging to old and overused marketing strategies when thoughtful risk-taking is within reach. If you need someone to jump off the cliff with, we are here to help you implement your next cutting-edge campaign.  Send me a note at meg@sweeneypr.com and let's take the dive together!