During the month of October, we are taking a look at social media services and breaking down their key attributes to introduce you to some of the latest players in the game. Click to learn more about the Investigating Social Media Services series.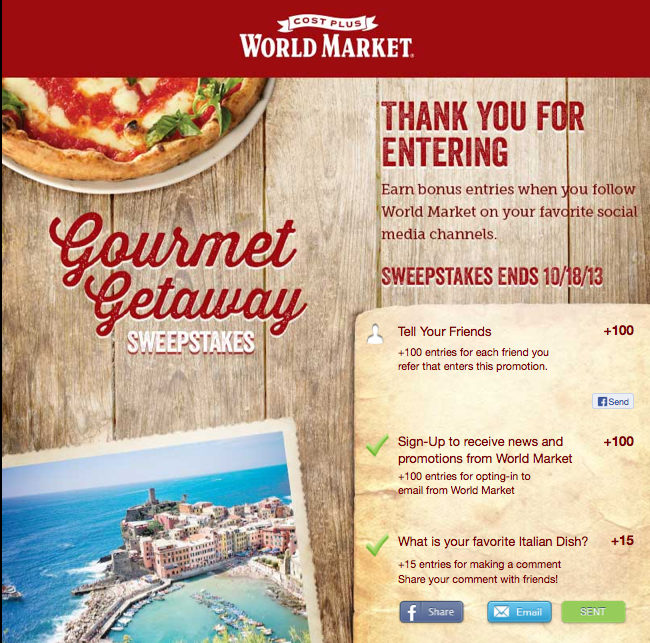 We recently stumbled across the World Market Gourmet Giveaway and naturally, wanted to see what kind of contest platform they were using to conduct this delicious contest. We are always examining these platforms to see what is most consumer-friendly, what are the capabilities, how can you integrate it with other marketing tactics, etc.
According to its website, Smartify is a digital marketing platform that helps brands drive direct connections to customers through social, mobile and web-based promotions. The format World Market chose makes it very easy for consumers to participate in the contest. A list featuring all of the ways to enter makes it easy to check-off entries as you make your way down the list. In turn, it's also an easy way for World Market to ramp up its social media following across multiple platforms. Yes: Pinterest, Twitter, Facebook, Instagram… etc.
Consumers have multiple points of entry (microsite, facebook, etc.) and multiple ways to enter. This helps make it simple to enter, yet the platform is still engaging. In addition to the external format, Smartify has a back-end that supplies real-time analytics to help monitor and measure campaign success.
In the past, we have typically used Wildfire for contests with our clients depending on their campaign goals, but Smartify is definitely a platform we look forward to testing. If you haven't entered the World Market contest yet to see how Smartify works, sign up and take a look for yourself.