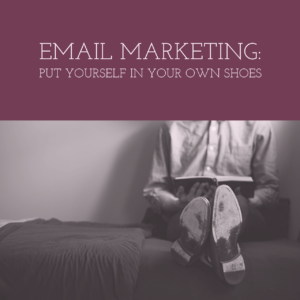 That's definitely not how the saying goes, "in my own shoes," what? Okay, give me a chance to explain. When it comes to formulating a strategy, we should always look for first-hand experiences to aid us in creating our plan. Cluttered inboxes are a reality for most folks; who hasn't felt the frustration of receiving daily emails from a company your 20-year old self-was once interested in?
I am always enticed by email subject lines that beckon to the shopping cart I filled up at midnight the night before. But what is it about these emails that pulls me in every time? On the flipside, what is it about the emails that guarantee a first-class ticket to the trash bin? Here are three best practice strategies that will help you solve the common mistakes of email marketing and leave your audience wanting more.
Test, Test and then Test Again.
I recently attended a webinar where Jay Baer, the owner of Convince and Convert, shared some insight into email AB split testing. Baer stated that one of the most important things to remember is "the weather is not the climate". When testing different strategies we must remember that weather changes by the hour, the climate is more definitive. For example, if you test a shorter subject line and receive a positive open rate, test this and then test it again before making this a concrete appearance in your strategy. The culture of email and technology is constantly evolving, so we must be open to testing new ideas in order to keep our audience engaged.
Does This Really Make Sense?
As marketers, we create tons of content. Before slapping any old meme into your email copy, consider whether or not this makes sense. Does this fall in stride with brand messaging or is this content going to distract our audience from the real purpose? Brand consistency = Brand Loyalty. If we want to evoke brand loyalty, we must deliver consistent and authentic messaging to our audience. Everything from the format of the email to the font we choose matters, so always ask yourself, does this really make sense?
Friend or Foe?
The standard open rate for an email campaign is 20-25 percent. While it might be tempting to take pride in a high number of subscribers, be careful of the possible foes that lie within. Always ask yourself are these people really interested in this type of content? In order to bump your open rates, complete a necessary subscriber validation process. Better yet, before people provide an email address, let them know what kind of content they will be receiving so you don't end up with hundreds of addresses on your list that never open your messages or click through to your CTAs. The name of the game is quality over quantity, and you always want to segment your lists so the content you're delivering is relevant and actually appreciated by those receiving it.
Email marketing is an effective way to reach our audiences in a timely and approachable manner, but getting good results is no easy task. Always consider whether or not you would respond well to the messaging if you were in their shoes. Ok, whose shoes am I wearing now!?!
Need some help implementing an email marketing strategy worthy of your brand? Send me a note at meg@sweeneypr.com (with a creative subject line) and let's try on shoes!