Inboxes are constantly overfilled with clutter, so how do you break through?
Start by asking yourself these five questions before hitting send: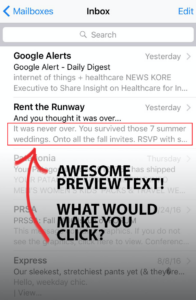 Is my preview text engaging? There is a strong correlation between a good subject line and high open rates, but
preview text (the line of text following the subject line in an inbox) is just as important. Ensure your preview text is as engaging as your subject line, and if possible personalize.
Does my email have one clear call-to-action? In general, e-blasts should have one call-to-action so that recipients have an understanding of what the email is asking them to do. Multiple calls-to-action can be confusing and ultimately lead the recipient to close out. The exception to this rule is newsletters.
Is my email optimized for mobile? It's likely nearly half of your audience is opening email on mobile devices. That's why it's critical to make sure your e-blast is designed with mobile in mind, so it looks aesthetically pleasing and is easy to read. Keep copy short, to the point and whitespace plentiful.
Do my images have alternate text (also known as "alt text")? When coding an image for an HTML e-blast, it's important for your images to have alternative text. If you're using a system like iContact, Emma or Constant Contact, it's as simple as filling out a form in the "alt text" box, and describing what the image is you are seeing in the event the image does not load.
Is my contact list updated and segmented? Even the best e-blast in the world will be unsuccessful with a bad contact list. Double check that your list is up-to-date and that it is segmented to the right people. You don't want to lose a recipient's trust by sending emails that aren't relevant. And, you don't want to be marked as spam.