It's no surprise that there was a social media frenzy yesterday about 9/11. While the majority of social media users were posting in memoriam, there was ample chatter about posts that were construed as offensive or distasteful. What do you think?
1. AT&T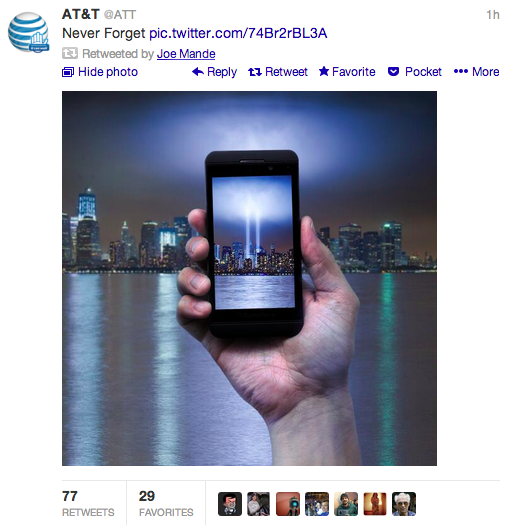 If you haven't seen this image by now, you may want to come out from under your rock. Perhaps the most widely criticized tweet of the year, AT&T posted this visual, which had Twitter users screaming. Why? Commercializing the holiday. Here is the full story on Mashable.
2. LA Lakers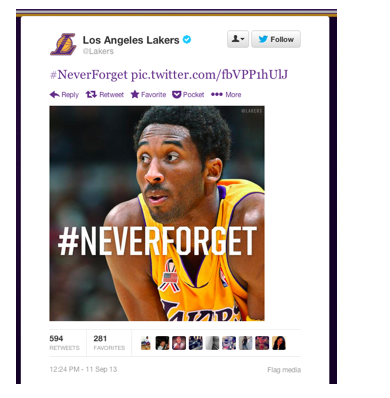 Really? Seriously? Speechless. Just not at all a good idea with Kobe's background. Apparently this tweet was removed almost instantaneously.
But it's not just on Twitter that these bad ideas come to fruition. However, that doesn't mean that they aren't amplified thanks to social media.
3.
Golf Course: A Wisconsin golf course joined many other companies in providing 9/11 discounts. The golf course discounted 9 holes of golf with a cart for $9.11 or 18 holes with a cart for $19.11 on Wednesday.
4. Marriott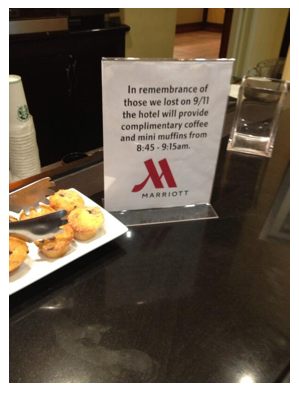 Marriott decided it was time for free muffins! But only for a half hour. A wise colleague of mine said… and I quote, "A special complimentary breakfast should probably only be reserved for something like mother's day…"
Lesson learned? Probably not. But if you are a company using social media and you want to pay respect… make sure it's not about your company's products, services or discounts. It's about remembrance.