The NAHB Internatio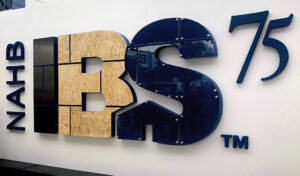 nal Builders' Show (IBS) was just held in Las Vegas, along with the National Kitchen & Bath Association's Kitchen & Bath Industry Show (KBIS) during Design & Construction Week. Among the thousands of products being showcased between these two events, the "smart" home trend was very apparent. This space is now over crowded with every smart home product you can think of… some being useful to the homeowner while others – the smart toilet – may not be so practical.
As smart home products continue to saturate the market, with forecasted sales of $398 billion for 2019 according to the Consumer Technology Association, it is more important than ever to be strategic in creating messaging that reaches through the mass overload of smart products entering the market. There are more than 150 products on the market with Alexa built in, and 28,000 smart home devices that work with Alexa. Last year it was reported Google assistant works with 10,000 devices. According to CNET, more than 100 million devices with Alexa have been purchased.
With all these products on the market, it can be confusing to media, consumers, builders and other influencers on which smart home products to invest in. It is critical to get the brand messaging right because you only get one chance to make a good first impression. Here's 4 critical questions to help develop product messaging that will cut through the clutter.
How is your product useful? While obscure smart products are receiving media coverage since they are unique and different, making sure your product has a clear value proposition to the consumer, builder, etc. is key. According to research, consumers want convenience, security, comfort, and the "cool" factor in their smart home products. Reducing energy and saving money also are a draw for consumers.
Does your product do what you say it does? When crafting product messaging, it is critical to maintain transparency. An editor from Popular Mechanic shared, "I haven't seen one digital device lately that performs as promised. There's always some caveat or something else you need to know or buy for the product (that you just purchased) to work. And in the end, it just ends up frustrating the user, instead of being this allegedly intuitive product that was pitched."
Is your product simple to understand and install? Consumers want simple installation that they can do on their own or with the help of handyman. Builders strive to cut costs with efficient installation processes that minimize their investment while increasing the home's value. Selling a smart home product that is easy to install without extra contractors and money is highly attractive to both consumers and builders. Make sure to iterate simplicity and not over complicate your product.
How will the product enhance the consumer's experience? Homeowners want to feel smart in the decisions that they are making regarding smart home products. Being "smart" can mean different things to different people, so within your product messaging be sure to appeal to both the practicality of the product while also explaining how the product will make the homeowner feel. Homeowners can feel smart through being in control of their home, being able to personalize what fits for them or just being able to streamline a product to make their lives easier. Remember that you aren't just selling a product – with smart home technology you are selling an experience to the consumer.
Want more insights on how to make sure your smart home product messaging cuts through the clutter? Contact me at hollyn@sweeney.agency.