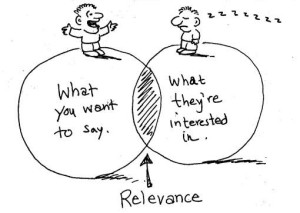 One of the first questions we typically always ask our clients is: who is your target audience? If you are not sure who your company's target audience is, rest assured, you're not alone! That's one of the best parts about incorporating strategy into marketing and public relations campaigns – you have the chance to really understand what you should be doing and why you should be doing it.
To really understand your audience there are several tactics that will help you target the right people, at the right time, with the right message.
1. Do your research.
You can do research by conducting a survey, holding a focus group or creating a content analysis of the consumers who have purchased your product or service.
2. Review your website's analytics.
You can learn a great deal from reviewing where people who visit your site came from (i.e. did they see someone post a link on Facebook or did they do a website search and were guided to your company's website?).
3. Ask questions.
Never underestimate the power of asking questions. Ask questions about your company, your brand and then ask who wants to know about your brand. For example, Are you targeting business or consumers? Where are they located? What are they looking for? What are their needs?
Once you identify your target audience and understand the needs of that audience, you will be able to strategically develop marketing plans that are more likely to bring in the sales results that you need.