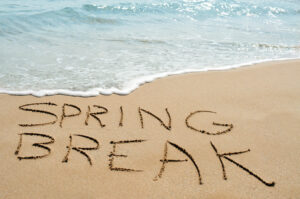 Spring Break is here! For some, it means sandy beaches, cold drinks, and nice weather. But for those of you who will live vicariously through social media this year, there is an opportunity to use the time off to get ahead of the curve finding a job or internship. Here are three things you can do to make the most of your spring break at home!
1. Set-up in-person meetings with professionals. This is a great time to network in the city you want to work or intern. Reaching out to a few professionals to meet for an informational coffee, lunch or even a tour of their company is a great way to learn more about the profession and make a lasting impression.
2. Get certified. Certifications are a great way to stand out from other applicants and expand your skill set outside the classroom. One strategy for doing this is to look at postings for jobs you would love to have in the future and identify certifications in the areas those jobs require experience. There are plenty of free online certifications, just be sure it's a credible source such as Google, HubSpot, etc.
3. Attend networking events and industry association meetings. Industry associations and networking events are a great resource for meeting professionals from different companies and learning more about your industry. Most organizations are happy to let a student sit in on meetings or attend events. In the case that no events are taking place the week of your spring break, reach out to a leader in the organizations you're interested in and ask for an informational phone or in-person meeting to talk about it.
Sporting flip-flops for seven days on the sandy beaches of Florida is a great way to celebrate spring break, but gearing yourself for the right career will enable you to hit more beaches after you graduate. Think ahead, plan ahead and get ahead.